It is difficult, and more than a little intimidating, to profile a commenter who is best known for a freakish dedication to obscure grammatical rules and not for, say, the actual content of his comments. But, his side gig with the Chicago Manual of Style isn't his only plus:
Gamboa Constrictor
also has one of the best screen names on Deadspin. Okay, now I think we've covered all the good stuff.
That isn't true. Gamboa is actually a perfectly competent commenter who is always capable of bringing down the house, provided the house in question is one of those abandoned flop houses in some deserted Michigan neighborhood that has already been picked clean by junkies and hobos. And that deserted neighborhood is probably a good metaphor for Gamboa in general: a sad hollow shell of what it once was; filled with people properly utilizing dashes -- albeit usually to get away from some crackhead with a broken Cisco bottle; and, of course, overly dependent on the use of slashes to make a point.
Now, let me correct one misapprehension about Gamboa. It's easy to look at the violent avatar and some of his coarser comments and get the impression he's some sort of badass. But ask yourself: when was the last time you got jumped by some dude who was irate about your use of guillemets on the Internet? Feel safer around him now? I thought so.
So, Gamboa, keep on bringing those /fixed comments and making sure that people keep their periods
inside
the fucking quotation marks. We couldn't have passed our Creative Writing courses without you.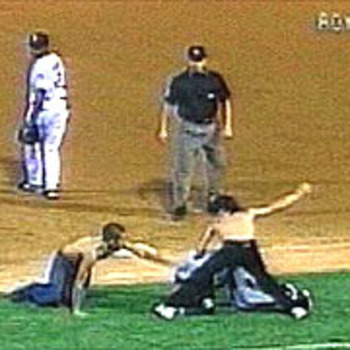 Pictured: Gamboa Really Forcing A Joke On An Unwilling Audience
MKM > Gamboa Constrictor